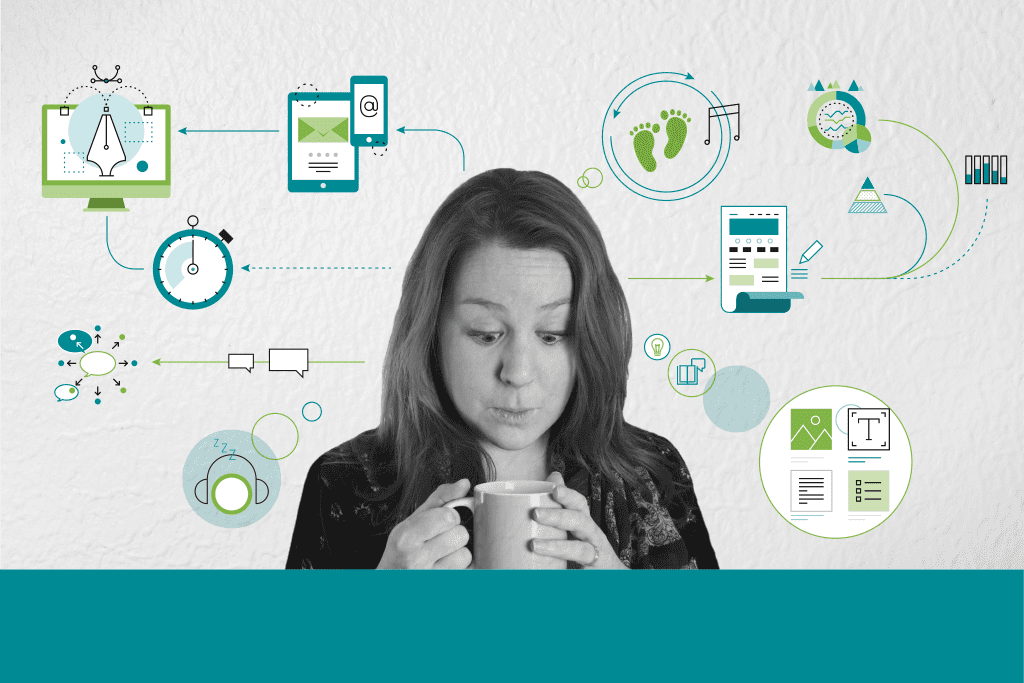 I'm often asked "So, what is it that you actually do?!" Well, here is a typical working day for me…
My first act of the day – no surprise – is to check my emails (if I wake up before my daughter that is). Most of my clients are US-based so I tend to receive a few requests and updates overnight due to the time difference.
Whilst getting everyone up and ready for the day I put some upbeat and energetic music on. My 18 month old loves to dance and I can't help but be in a good mood for the day after watching her whirl around. After waving my husband off to work, I take my daughter to nursery 5 minutes away and return to have breakfast, a large coffee and head into my studio.
My first job of the day is to respond to any urgent emails and read and file the rest for action. I use 'buckets' for my inbox, as recommended by David Allen in 'Getting things done'. Everything has a place, other than my inbox, whether it's filed under 'to do' or to reference later for a client project. I work with a small number of clients so I'm rarely inundated with emails. Then my to-do list is created and assigned priorities.
The editorial articles I laid out last week for a New York client have been copy-edited and returned overnight. It's often the case that they need to send them to their client first thing EST the following day so it's handy to have the 5hr time difference. I amend the designs, complete a final proof-check and return them to the client.
The first chunky piece of work I have on my list is to create a wireframe for a new infographic. I read the brief and direction from my client, and then go through the content in detail, making notes as I go of key points and visual ideas that come to mind. I find additional reading and research essential to being able to design information; it's crucial to understand content before being able to design for it. Researching topics also provides context as to where the design will sit online. I sketch up loose ideas for how to visualise each section, and then transfer it to the computer, refine my ideas and create a greyscale wireframe. Having checked that all the content and data points are correct, I send it on to my client with a rationale, clear my desk ready for the next job and have a break for lunch. Today I need to run some errands in town so I grab a panini and flat white on the go.
When I get back I check my emails. An agency client based in Canada has asked me to produce some mock ups for a pharmaceutical research report for one of their clients, so I make a start. I read the first draft of the content and think about how best to structure the sections for the end-user. Some clients send highly formatted content with plenty of design instructions, others send a word document with minimal notes and leave it to me to structure and choose pull-quotes, charts etc. I'm happy with both, and anything in between. Once I have the structure I collate inspiration for the visual style. Using the brand guidelines as a base I scour books, magazines, online forums and galleries, Pinterest and many other sources for inspiration. I start sketching up ideas for the cover and inner pages but prefer to leave these for a day or so if I can, and come back to them with fresh eyes before mocking up final versions for the client; for me, additional ideas often pop up when going about day-to-day tasks.
An urgent request has come through to help a client tidy up a powerpoint presentation they've put together. I create editable graphics and charts in the brand style, as well as tidying up the typography and providing guidance through comments where necessary for their reference.
If I have time before the end of the day I do a quick scan of my social media and one or two of my favourite blogs to see recent updates, file away any last emails of the day and log off.
I pick my daughter up from nursery – she's super-excited to show me the tiger face mask she's made and chatters all the way through until bed time. After dinner I catch up with Netflix, read the latest issue of Communication Arts or scroll through Pinterest to find inspiration for my off-duty hobbies (which I'll get back round to when I have time!).
After checking my emails one last time I go to sleep listening to comedy shows on Radio 4 – these provide a funny and chilled end to the day.