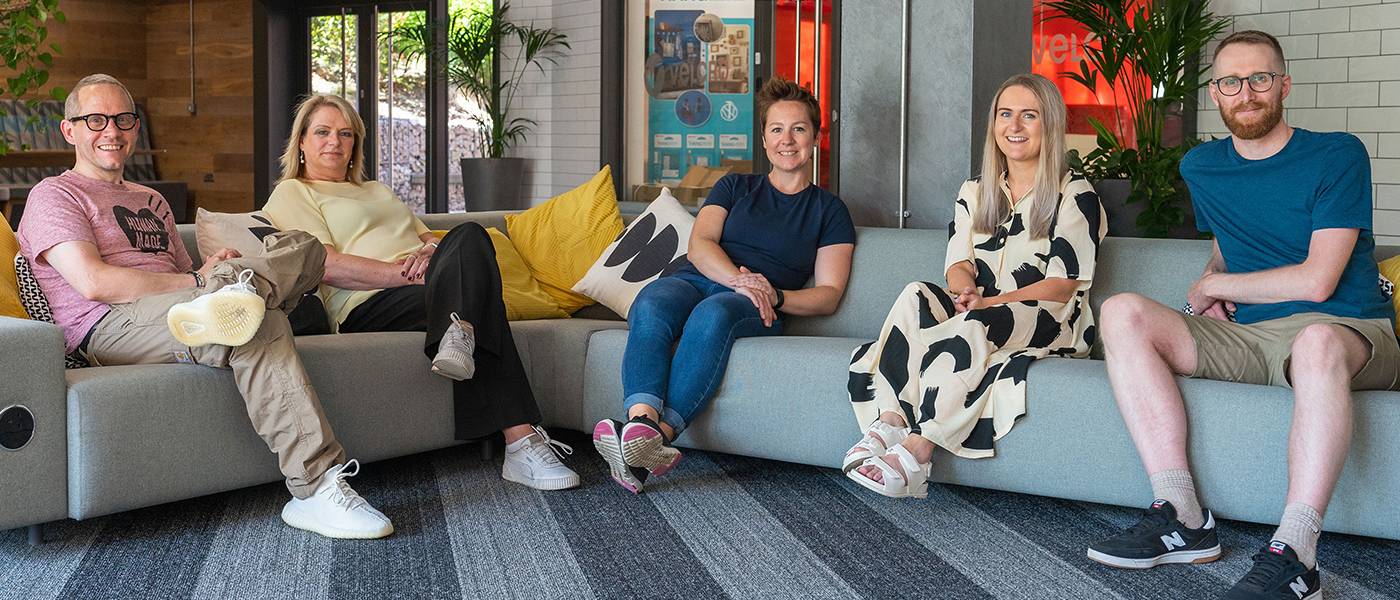 NWC Design was founded on the principle that people come first.

We want our team to have the best experiences and opportunities both inside and outside of work.

The values we work to at NWC Design are neat, simple, and well defined:



"I recognised two problems during my previous agency life: There was a lack of humanity from leaders towards staff and clients, and the businesses existed simply to make money.

The dissatisfaction and disappointment at these revelations meant I formed my own vision of what a design agency could be and, more importantly, what it could

do

for others.

"



Non Wood, Founding Director



Armed with her vision, Non set about building an agency with a strong values-based foundation. As its reputation grew with clients, so too did its appeal to potential team members. Looking for more satisfying and supportive work lives, one-by-one our team grew as great people connected with our ethos and joined us.
The business exists to provide a platform for success – for the team, for clients and for suppliers. We look for opportunities to improve our own lives, and the lives of those around us through the way we think, work and do.
And one way we do this at NWC Design is by helping our clients publish thought-provoking and engaging content that will inspire great people to take the action required to make a difference in their world. 
Non

Non enjoys getting up to mischief with her daughter, working up textile masterpieces on her sewing machine, exploring Cheshire on her bike and generally enjoying life. She loves the outdoors, and most family adventures involve her campervan. Non is also a force to be reckoned with when it comes to cryptic crosswords.

After 10 years of agency life as a Designer, Account Manager and Creative Director, Non was frustrated at the lack of humanity in the businesses within which she worked. The attitude of leadership towards staff, clients, and suppliers didn't sit right with her values.

In 2015, Non started NWC Design with a vision to create a successful business built around people. She wanted to build an agency fuelled by integrity as well as profit; that would be a joy to walk into every day; that would be run by good people doing good things for each other while looking out for those around them, and doing great work simply because they love to. And that's what she's done.

As well as loving all things business, Non is a data visualisation and editorial design geek and strives to find innovative, creative solutions that build trust for NWC's clients.

Dom

Dom is an avid cyclist and he's often found breaking the speed limit on Cheshire's roads on two wheels. When it's raining, he's usually devouring the latest shows on Netflix and Amazon. He also has a huge collection of trainers. Honestly, it's scary.

Since graduating with First Class Hons from Staffordshire University, Dom has since worked in and around Manchester in various creative agencies, always maintaining a strong interest in identity and branding to develop his understanding of the processes involved. Whilst designing a large number of reports and infographics in his previous role he found a passion for combining brand, editorial, and visual design.

Dom is a highly accomplished editorial designer and manages everything digital at NWC. He plays a key role in running the business alongside Non and has the difficult task of filtering her deluge of ideas.

Matt

Matt's passionate about travel and takes the opportunity to experience new places and cultures whenever he can. He also enjoys sampling various culinary delights from around the world and often shares his recipes with the rest of the team. If he's not at home relaxing watching the latest TV shows and films, you can catch him trying to enjoy watching football (although that can be hard as he's a Liverpool fan).

After graduating from Salford University in Manchester and honing his skills in infographic, data and visual design with our Director, Non Wood, at a previous agency, Matt went on to work within editorial and digital design producing multi-channel content. In his last role he produced creative solutions for live communications across the globe acquiring an impressive proficiency in interactive presentation design for internal comms and external B2B audiences.

Matt has a wealth of experience in visual content, editorial and presentation design, as well as particular specialisms in infographic design and illustration.

Sam

Outside of work you'll catch Sam running around after her children and dogs, planning the next family adventure and their synchronised outfits. She has a love for dance and the theatre, attending regular dance classes to try and stay as sharp as she was at 18. Sam also owns a small online stationery shop, creating print products with her hand drawn typography.

After graduating in Graphic Design and Illustration Sam has progressed her design career in creative agencies across Manchester. During this time she's gained professional experience across versatile platforms, delivering solutions for clients across diverse industries. Sam has the balance of being meticulous yet creative in her style on whichever project she is tackling, however her passion for bringing content to life lets her proudly lead the animation facet of the team.

Sam was looking for an agency where she could fulfil her love for motion graphics whilst also being in a modern, forward-thinking culture and she was thrilled to find exactly that at NWC.

Una

Una is adapting to life as an empty nester after 25 years of child-rearing. The extra time she now has is taken up with regular gym visits, expanding her social network of like-minded women and the sheer joy of visiting her daughters at various places around the globe as they branch into their respective lives and careers.

Professionally, with 20+ years of marketing experience under her belt, Una uses her knowledge to undertake marketing outreach and communications for NWC on a consultancy basis. This involves selecting those organisations we'd like to work with; making a friendly approach and helping to start conversations.

As with everything we undertake, Una's outreach and communications are done in an ethical and respectful manner, and we enjoy working with clients who appreciate those values.