Given our enthusiasm for creating effective information design based on an understanding of how our brains work, it'll come as no surprise to learn that the intricate and varied world of healthcare communication design is entirely suited to what we do and how we do it.
A "one size fits all" design process is not going to work with healthcare communication design. Each medcomms audience requires different information, in different formats and handles it in a different way.
On the other hand, all the audiences need to engage with and understand the information that's being presented to them.
Just think about it. That audience list will include patients, doctors, nurses, surgeons, clinicians, pharmacists, administrative staff, health organisations, relatives, civil servants, medical suppliers, pharmaceutical companies and the general public – yes, it's a big medcomms world out there.
And the way that information is presented is no less diverse. They're going to see reports, fact sheets, brochures, guides, presentations, profiles, leaflets, posters, digital medical screeners, the lot.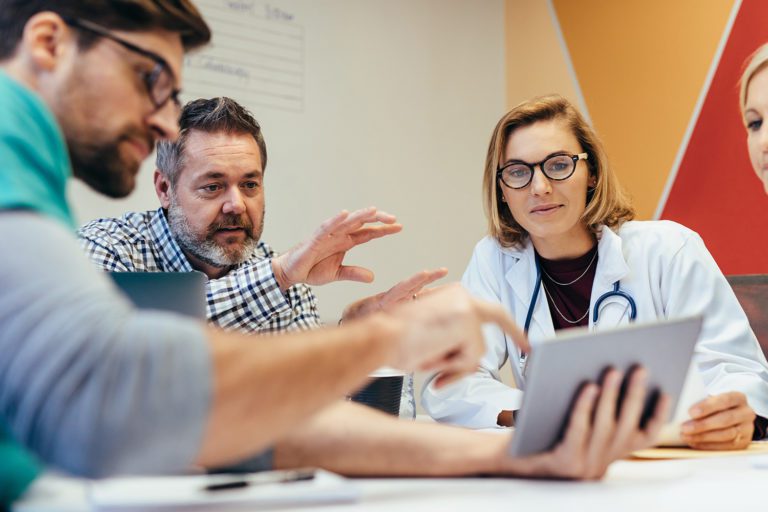 At NWC Design, we have more than 20 years combined experience working in medcomms and in particular with global pharmaceutical brands.
We apply our knowledge of how people process and store information so that we can give your audiences, whoever they may be, the best chance of understanding and remembering the vital medical, clinical and technical data that you want to communicate.
Truly effective information design works better, looks better and achieves better outcomes in the world of healthcare comms.
Here are our top four medcomms areas of activity:
1. Internal communications
Internal comms is health professional talking to health professional through reports, presentations, research data and employee engagement materials. The topics could be medicines, treatments, medical or organisational processes, all of which will need to be accurate and informative.
Within healthcare, internal communication designs also need to be engaging, succinct and inspiring. They're used to inform, persuade and activate healthcare workers, who are often overwhelmed with information and have little time. The role that design plays in achieving all of these outcomes is not to be underestimated.
2. Patient-focussed communications
The availability of – and access to – information is ever-increasing and patients are taking a much more active role in their own healthcare management. With this in mind, it follows that the information available should be correct, relatable and able to be easily understood.
Often patients receive healthcare information at times of emotional distress, and so its design needs to be clear and concise while also being supportive and approachable. That way patients can absorb and process the information in order to make the best decisions for their own health.
Patient-focussed communications can include digital medical screeners, disease and treatment guides, patient and medication profiles and explainer videos.
3. Public health awareness
We all know about public health awareness campaigns. They come in the form of leaflets, information sheets, posters, screen-based information and are about broad issues of healthy living and disease prevention.
Has anyone not heard about eating five portions of fruit and veg a day, the benefits of breast feeding, stopping smoking or self checking for problems such as cancer?
These communication materials need to be attractive, easily understood and memorable as they are targeted at a broad non-medical audience, and are often displayed in public settings, whether on the street, online or on-screen and in hospitals and doctors' surgeries.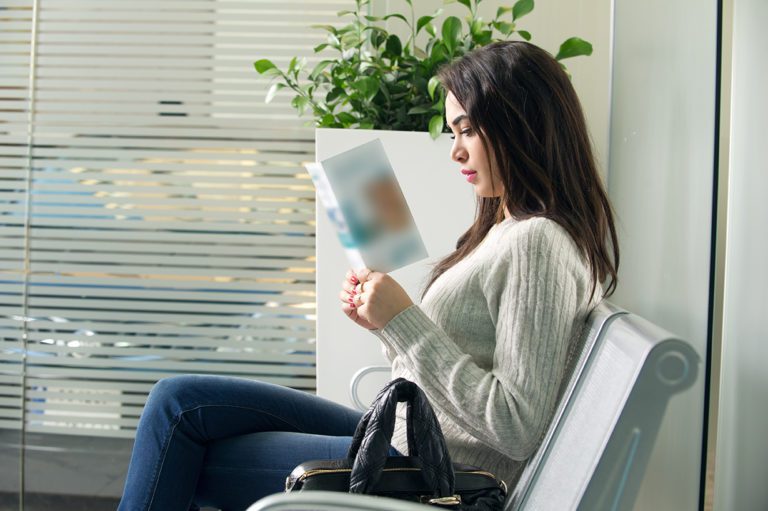 4. Marketing to healthcare professionals
Marketing and digital marketing in particular has its own significant role to play in healthcare comms. It may be facts and figures about a new drug, raising awareness among professionals about a new treatment or the latest findings in medical research.
Healthcare professionals are generally time-poor and overwhelmed with information. The materials supplied to them need to be concise and informative, quickly understood and memorable.
Traditionally in healthcare comms, the emphasis not surprisingly has been on the words because words offer reassurance.
But effective information design will focus the audience on what's important, communicating complex matters of health and treatment in a way the brain can understand and remember easily.
That too brings reassurance; reassurance for the patient and their families that they understand what's going on and reassurance for the healthcare professional that the information they are providing is accurate and suitable.
---
At NWC, our information design principle of combining science, logic and creativity is unique. In the complex and multifaceted world of healthcare communications, never has our statement of intent – make it useful, make it accurate and make it engaging – been so appropriate.
If you'd like to chat to us about how we could help you make an impact through healthcare communication design, call us on 01606 276176 or email us workwithus@nwc.design.